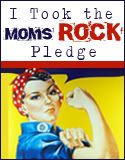 The Pledge:
--I pledge to purchase from mom-owned businesses as often as possible in my daily life. Be it online or in person.
--I pledge to support my fellow mom in word and action when online.
--I pledge to be a mom that rocks the economy.
Moms Rock the Economy is a collaboration between Leah Segedie and Kelly Loubet. Leah Segedie is the Chief Mom of Bookieboo and Mamavation, and Kelly Loubet is the Designer of Childhood Clothing and Moderator of Bookieboo. It was designed to give moms a place they could go to pursue discount shopping WHILE supporting mom-owned businesses.
I am a mama who needs to pursue discount shopping, and who LOVES to buy from other moms! I was a Mary Kay lady for a while, and loved owning my own business. I know how it feels, how difficult it can be in the economy to continue in your mom owned business rather than setting it aside to find more "secure" employment, and I want to do my part to support moms in their businesses!
Don't you??
Get on over to
Moms Rock The Economy
and take the pledge, check out the mom owned businesses featured, and if you're coming by this evening, Sept 17th, then come to the twitter party!!! #momsrock on twitter